Providing Community Based Services for persons with an acquired brain injury, traumatic brain injury, neurologic impairment, or related disability.
Celebrating 29 Years – 1994 – 2023
Meet the Sherrys, Owners of NCIL
As told by Patsy Sherry…
In the early 1980s my husband Garry was working at a large facility for the treatment of adults with traumatic brain injury. He became frustrated at the difficulties inherent in large programs with their inability to truly integrate individuals into the community.
At the same time my family was becoming increasingly frustrated trying to find a place for my brother who had sustained a serious brain injury in 1983. We had many conversations about what we thought a program should be comprised of…home-like living, caring staff who treat people as individuals, and plenty of involvement in a small and accepting community where an individual can develop authentic rehabilitative experiences. And there were things we didn't want…over-sized administrative staff, outdated behavioral programs, heavy-duty institutional furniture, and large campus settings isolated from the community.
After much soul searching, we decided to develop our own program and run it the way we knew it should be run, the way we wanted our own loved one to live. In 1994 we opened our first program. The homes are in our neighborhood. We focused on small, individualized programs with plenty of individual choices and a variety of community activities. We hired the quality of staff that we would want to work with our family: caring, bright, easy to get along with, who were looking for a place to build a career.
That was 25 years ago. Since that time, we have worked hard to establish a reputation we are very proud of. While our program size has changed our vision has stayed the same. We have provided quality individualized care to residents who are striving for autonomy while overcoming struggles and obstacles from traumatic brain injury, stroke, developmental delays, autism, and other neurological impairments. We pride ourselves on creating individualized programs that assist residents to become as independent as possible while living in the least restrictive environment.
Thanks to our incredible staff, the NCIL residents are enjoying all aspects of community inclusion in the Mount Washington Valley and beyond.
At NCIL we have approximately 100 employees working 24/7 to support, guide, and encourage approximately 35 individuals across New Hampshire towards more meaningful and productive lives. We hope that our community will continue to support and welcome these individuals as they work towards independence and being part of this community. The residents and staff can be found working in the local community, volunteering with delivering Meals on Wheels, participating in Valley Pride Day, the Vaughan Community Food Drive, and Jen's Friends. We are also at the Humane Society, the Library, Angels and Elves and many more local events!
We want to thank all the NCIL employee's past, present, and future, for their dedication to this program and the positive impact they have made in so many lives. What started nearly 30 years ago as a mission to find quality care for a family member became what is now NCIL, an organization that provides quality care for so many individuals in the Mount Washington Valley and across New Hampshire.
Garry and I hope you get a feel of our programs from this website. Please do not hesitate to call us or come visit us to discuss how we can help you to make a tough decision a little easier.
—Patsy & Garry Sherry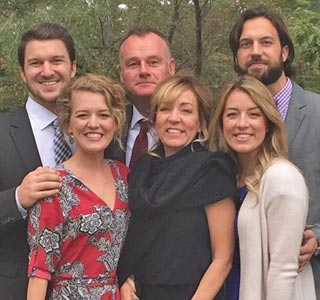 Celebrating 25 Years – 1994 -2019
THANK YOU
to our staff, our residents and our community!